Smart medical solutions are emerging all over China in light of the national initiative to enhance health services using internet technologies.

China's medical sector will grow to the size of 1 trillion yuan ($145 billion) within the next 20 years, and this growth will be fueled by not only an army of doctors and nurses, but also troves of data, according to experts in the field of artificial intelligence.

"When you combine AI with the nation's trillion-dollar healthcare sector - especially healthcare at the smaller, local level - there are infinite possibilities," said Xie Guotong, chief healthcare scientist at Ping An Technology.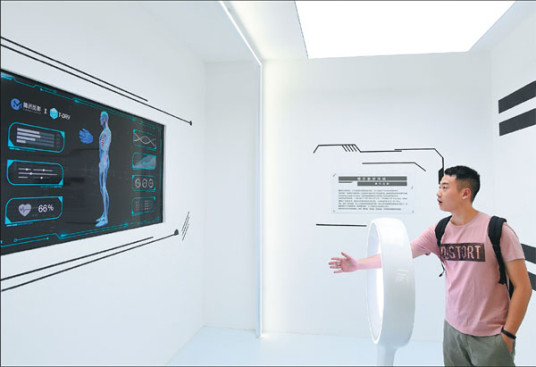 A visitor tries an AI-powered smart medical equipment developed by Tencent at the Smart China Expo held in Chongqing in August. Wang Quanchao / Xinhua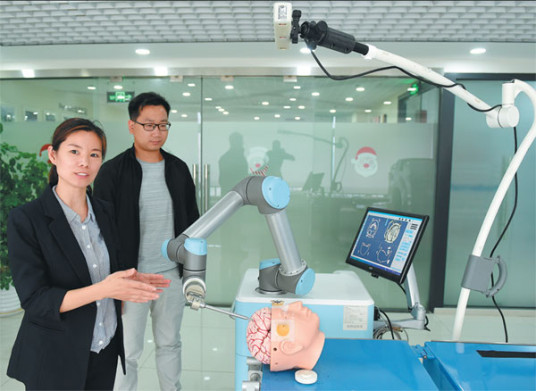 Remebot, a navigation and orientation robot for neurosurgery. Luo Xiaoguang / Xinhua
Dimitris Metaxas, the chief scientist for smart health at SenseTime, an AI startup in China, points out that the key element in the evolution of the medical sector will be learning algorithms, which will allow humans to gain unprecedented insights into diagnostics, care processes, treatment variability and patient outcomes.

"Using large amounts of patient data from radiological, pathology, biological and other types of medical devices, the new AI methods and technologies are able to provide new insights into diseases, such as precise quantitative analytics and correlations between different data modalities, that humans cannot determine," said Metaxas.

During the World Artificial Intelligence Conference in September in Shanghai, SenseTime unveiled the prototype of its first AI medical product SenseCare, which provides improved AI tools and methods that can enhance clinical practice by augmenting a clinician's decision-making abilities for both diagnosis and treatment.

Smart solutions such as SenseTime's prototype have been mushrooming across China in light of the national initiative to enhance health services using AI technologies. In late 2017, Chinese internet giant Tencent rolled out an AI-powered diagnostic imaging solution that helps detect early symptoms of various cancers.

Tencent vice president Chen Guangyu said the program has scanned hundreds of thousands of gastroscopy images and has an accuracy of more than 90 percent when it comes to diagnosing preliminary esophageal cancer.

"By accumulating massive troves of data, the analysis is expected to become even more reliable ... and this would in turn assist younger doctors," said Chen.

Tech giant Microsoft is also flexing its muscles in this field. Its machine learning platform has been used in collaborations with partner firms such as US pharmaceutical giant Eli Lilly and Co and Chinese image cognition startup Airdoc to develop a system that can determine if someone is suffering from diabetes through a retina scan.

Over at Royal Philips China, the company has diagnostic imaging solutions that help detect early symptoms of certain diseases in the lungs, breasts and other areas. According to Royal Philips China CEO Andy Ho, the company spends 1.7 billion euros ($1.92 billion) every year, about 10 percent of its global revenue, on research and development, 60 percent of which is focused on software and AI-related matters.

"The Healthy China 2030 national strategy is a grand vision to bolster development in key healthcare domains and improve people's quality of life," Ho said. "AI-based solutions have great potential to improve patient outcomes and care efficiency."

Jayashree Kalpathy-Cramer, an associate professor of Radiology at the Harvard Medical School, said that AI can also mitigate the impact of manpower shortages by performing diagnostic duties typically done by humans. This would be especially useful in China where medical resources are lacking in rural areas.

For example, AI imaging tools can screen chest X-rays for signs of tuberculosis, often achieving a level of accuracy comparable to humans. This capability could be made available through an app that medical care providers in low-resource areas can access, reducing the need for a trained diagnostic radiologist on site.

Diagnostics aside, AI has already been used in other areas of the medical field to boost the efficiency of routine tasks such as documentation, which in turn allows doctors and nurses to spend more time on important tasks.

In a joint research program with Zhongshan Hospital in Shanghai, Royal Philips uses natural language processing to halve the time needed to read handwritten medical records and diagnostic charts. Ho noted that doctors can expand their contextual understanding of a patient's history, thus improving personalized therapy, by extracting insights from data.

Meanwhile, voice recognition and dictation technology have also helped improve the clinical documentation process. By working with more than 100 hospitals nationwide, Chinese voice recognition firm iFlytek enhances workflow processes by allowing doctors to record their diagnosis using voice, which is then turned into text in real time, said Xie Jie, a marketing manager at iFlytek.

"There is no longer the need to read handwritten notes or prescriptions. Today, doctors can simply dictate information. The Chinese speech-totext translation has an accuracy of more than 97 percent," he said.

The continuous improvement of AI can also improve current personalized treatment options for patients, said Metaxas. For example, in orthopedics, 3D printing technology is used to create new body parts for patients who might need to undergo procedures such as complete joint replacement. The use of AI, Metaxas explained, can improve the precision of 3D printing and ensure that patients get an artificial joint that is as perfect a fit as possible.

"Such personalized treatments are no less important than diagnosis, and we're putting more efforts into this area," he added.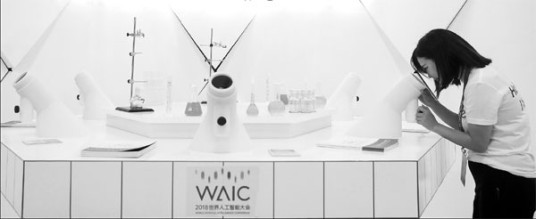 A real-time cancer detection equipment at the World Artificial Intelligence Conference. Ding Ting / Xinhua